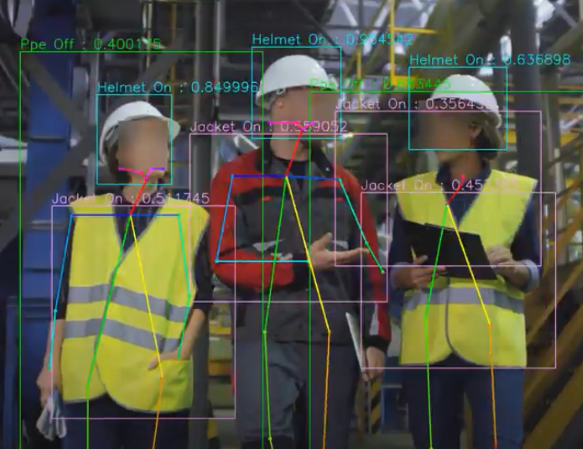 Do you keep all the safety regulations? Do you provide the necessary safety related trainings? Do you supply your workers with required personal protective equipment? You try everything but your injury related direct and indirect costs are still rising?
Artificial intelligence can help your business to cut those expenses and keep your reputation stable.
In the manufacturing industry, where heavy machinery is used for production, it is essential to keep workers safe while working. Being surrounded and working with such machines can be utterly dangerous, thus it is important to provide workers with all the necessary safety equipment. However, even though the prescription of safety laws and trainings, even though the distribution of the personal protective equipment, it is still difficult to guarantee that workers will follow the safety regulations and will not put not only themselves but also their colleagues in danger. This hazardous behavior can cause huge negative impact on companies, not only costs but also work-moral wise. 
According to U.S. Bureau Labor Statistics' 2019 Survey of Occupational Injuries & Illnesses, 2.8 million nonfatal workplace injuries occurred in 2019. Out of this 2.8 million, manufacturing took 15% among all the private industries, accounting 421,400 incidents during 2019. These injuries must be treated and paid for, and significant portion of the cost is borne by companies. 
2018 Liberty Mutual Workplace Safety Index identified that close to $60 billion had been spent directly on worker compensation in the USA for serious, nonfatal workplace injuries, meaning that businesses spent more than one billion dollars a week on such injuries. In its report, the National Safety Council identified that $171 billion have been spent on cost for both fatal and non-fatal injuries in 2019. Besides these direct costs, companies might pay also with their work-moral, production time, efficiency, reputation in the industry, and also the chance of recruiting qualified workforce.
In order for companies to maintain their good reputation in the industry, they need to find a solution to reduce these high accident rates and their negative consequences.
Due to the technological development better, smarter and more up to date problem solving solutions are offered for safety management than ever before. Software with artificial intelligence helps and facilitates the work of safety managers. The software extracts the human factor and they themselves control the compliance with the security rules. Due to the constant 24/7 detection, the number of noticed and reported near-miss incidents will increase, resulting in fewer accidents in manufacturing facilities.
Thanks to this continuous monitoring – while protecting the workers – companies can save significant amounts of money by evading unnecessary and avoidable expenses paid for compensations. Be Global Safety artificial intelligence software revolutionizes the concept of security in the manufacturing industry by providing comprehensive safety that keeps not only employees safe but also keeps costs down and work ethic high. A single investment can reshape the safety operations of companies, thanks to which the company's perception will remain positive in the market.
How many accident you could avoid last year? How many of them were predictable?