PPE Detection - Personal Protective Equipment
Detecting Personal Protective Equipment – PPE Detection
Using personal protective equipment (PPE Detection) has always been a critical part of the work process in manufacturing, construction, and healthcare facilities. Workers in these environments meet hazards every day, such as exposure to gas, chemicals, radiological materials, fall from height, vehicle collision, and so on.
That is why in those industries PPE detection might be crucial for workers to improve their health and safety, but also for employers to stay compliant with OSHA standards, avoid injuries and accidents, and avoid fines.
Be Global Safety's AI powered safety software – ARVIST, has a module for PPE detection. ARVIST automates the PPE detection and compliance in real-time. BGS ensures that workers wear and use their PPE in a proper way.
Before ARVIST runs PPE detection, all faces are blurred to respect privacy of your workers. The idea is to bring a behavioral safety culture change to the company and not create a policing software. Getting employees onboard is critical for a great safety culture and that is the idea behind blurring out all faces. The software streams the real-time feed from the cameras in your facility to detect PPE incompliance and give instant insight and analytics.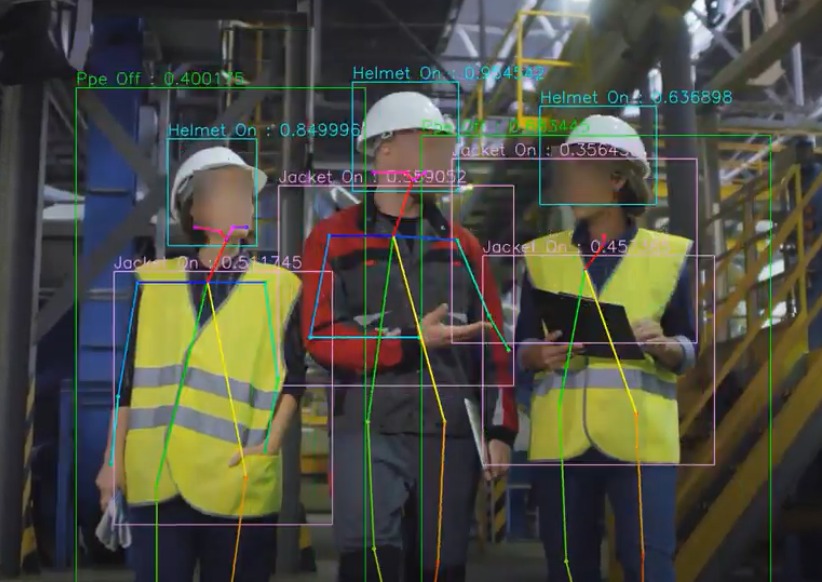 BGS offers PPE detection of hardhats, masks, gloves, safety glasses, sleeves, aprons, vests, with more to come.
PPE has just one function, to minimize exposure to these hazards that cause serious workplace injuries and illnesses. PPE detection with AI is one such solution. It can reduce PPE violations and injury in your facility. PPE detection helps to determine if workers in a laboratory or on a construction site are wearing their personal protective equipment.
AI-powered PPE detection automates PPE inspection in any facility. It detects the PPE worn by workers in an image or video. Such detection is automatic and in real-time, meaning safety managers can set rules for notifications if a worker is non-compliant or when a worker approaches a work area with no PPE.
The software detects the PPE worn by workers to benefit and improve not only their safety but also to increase productivity, save time and reduce costs. AI can be also configured to detect specific types of PPE based on the kind of work done in the environment.
Additionally, there is no need to install unique IP cameras to use the AI PPE detection system. The typical CCTV or mobile device cameras will do just fine. AI-powered PPE detection is safe because each facility must follow OSHA's employee privacy rights.
PPE detection, for example, can be used to assess whether employees on a construction site are wearing hard hats or whether the medical staff is wearing face and hand covers.
Manual PPE detection is repetitive and time-consuming. AI-powered PPE detection system automates this process, saving time and costs of employee benefits or fines. Based on the set criteria, the system detects all types of PPE and quickly notify you in case of violation. That way, it helps you access the reasons for PPE non-use and design a safety program to correct them according to OSHA standards.
Working with a PPE detection system shows your commitment to EHS. The ability to identify problems with PPE and design a safety program accordingly prepares you for safety audits. Workers are more productive when their work environment is safe. Creating a safe work environment begins with developing a safety culture. Aside from designing specific training around PPE, the AI PPE detection system gives you enough insight to make your toolbox talk more educative and inspiring. That way, you can rest assured your workers are motivated to work and inspired by your safety culture.
PPE detection is essential to keeping your worker safe from workplace hazards. You can automate the detection system with Artificial intelligence to save time, costs, and develop an agile workplace safety culture.
catch up on safety innovations
Don't fall behind and stay current with digital safety trends and innovations. 
© Copyright BeGlobalSafety. All Rights Reserved
Designed by Be Global Safety